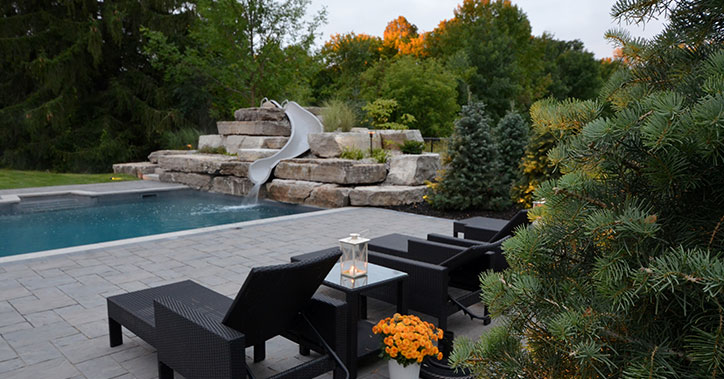 5 Reasons You'll Love a Backyard Gazebo
18 Nov
Gazebos can be more than just stand-alone designs. At Blue Diamond Pools, we can build a structure right into your deck or patio, offering you the perfect area to unwind, entertain guests, or laze in the hot tub. Our gazebos are available in plenty of shapes and sizes and can be customized to the style of your choice, whether it is traditional wood or vinyl.
Not sure if a gazebo is for you? Take a look at 5 benefits you will love!
1. Shelter from stormy weather
The most beneficial asset that comes with a backyard gazebo is the shelter it provides from stormy, unpleasant weather conditions. No matter what the climate is like, there are going to be occasions where you'd prefer to be outdoors without having to worry about getting wet from the falling rain. Although it's not ideal protection for snowy weather, the odd flurry or drizzle shouldn't stop you from relaxing outdoors with a cup of coffee in the morning. A gazebo truly helps you to make the most out of your outdoor living area.
2. Play room for the kids
Sometimes as a parent you need time and space to get chores done around the house; a gazebo provides a suitable area for your children to play under temporarily – whether it be a puzzle, coloring, or reading, they are protected from the elements while you're able to finish up household tasks. There are times when every parent has to shove the kids out the door in order to get some stuff done in the house.
3. Entertainment point
If you normally host special events, or birthday parties, you will most definitely get plenty of use out of your gazebo. It's not only a practical (and comfortable) area for sitting and socializing, it's a gorgeous focal point and conversation piece for your guests. All in all, it makes any backyard gathering more glamorous and inviting.
4. Privacy
Depending on the style of gazebo you choose, this area can be made very private. Some gazebos are open on all sides, however you can alternatively ask for a design that is covered in lattice for added privacy and solitude. It's the perfect spot to have a romantic evening in the hot tub, or a nice meal with your loved one. Whatever you choose to do, you can ensure to enjoy it without onlookers or other interruption.
5. Property value
Any permanent structure you build into your property provides the opportunity to raise the value of your home, especially if it's functional. While you may not experience a big return on investment by adding a gazebo, it can definitely act as a selling feature for potential buyers down the road.
At Blue Diamond Pools we will design and install the gazebo of your dreams. For more information on our backyard landscaping services, be sure to contact us at 705-726-3403.