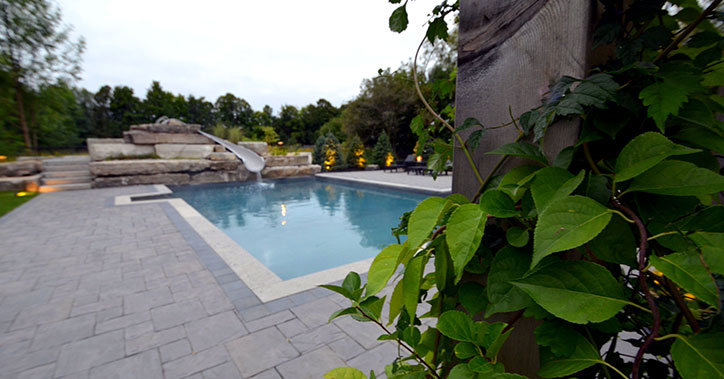 Don't Just Swim in Your Backyard, Vacation in it!
01 May
The warm summer months are approaching, and you've decided to take the plunge to invest in a pool for your backyard! Those hot, sticky days don't seem so daunting suddenly, and instead of dreading the heat and humidity, you can't wait for it! When you purchase a pool you buy a constant source of relief from the heat. When you expand your pool into an outdoor entertainment area, you are now buying a space for lazy weekends that feel more like a mini-resort. Who wouldn't want that! Not only do you buy relaxation, you also buy outdoor entertainment for friends and family.
So how can you create this feeling of sanctuary in your backyard? Look for a pool servicing company that offers innovative pool styles, and solutions that go beyond that of a standalone pool.
To walk out to a pool in your backyard is a wonderful thing. Imagine walking out to your pool where you are greeted by a gorgeous new patio, or walkway, complemented with natural greenery…Now you've truly created poolside perfection! With the endless pool styles, and design concepts available, you can truly bring that ideal backyard image to reality.
Whether you're looking for soft-scape or hard-scape landscaping to complement your pool surroundings, both approaches add to your backyard's aesthetic appeal, creating a revamped living space for your family and friends to enjoy. The style and shape of the pool will likely determine the landscaping and pool deck layout that is most fitting. While the pool is a natural hub, keep in mind that the unique surroundings you can achieve with high-end stone or decorative concrete patterns, provide structure to your backyard, and also provide a focal area for socializing. After you consider the material and design of your pool deck, why not complete your new eye-pleasing backyard with lush plantings. Placing plants and flowers in your pool area, is a quick and easy way to provide that natural, tropical vibe you want. If you're seeking to add to the relaxing tranquility of your pool, waterfalls create a peaceful backyard atmosphere, not to mention look gorgeous. When planning your backyard retreat, you can truly be as decorative as you want. The options are limitless!
A pool is so much more than just a place to swim, it's a place to for you to unwind, relax and entertain. So float about, soak up the sun on the pool deck, or enjoy a barbeque on your patio. Whatever your desire, it doesn't have to be just a pool and a fence anymore… Now you can transform your pool area into a personal resort!