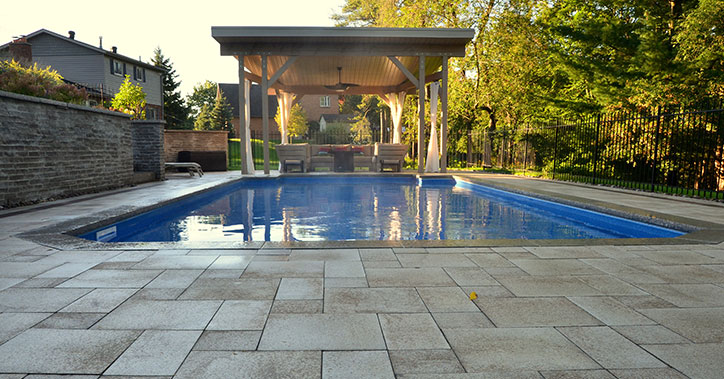 Enjoy Your Backyard with the Glow of a Fire Feature
18 Nov
Sure it's not exactly July and August temperatures out there today, but we haven't seen too much of the white stuff yet either! The chill in the air shouldn't stop you from enjoying your backyard pool area; in fact, there are still plenty of ways you can use your backyard living space throughout the fall and winter months! Adding a fire feature to your backyard patio or deck will provide warmth to your family and friends on those chilly evenings, and acts as a beautiful focal point for gathering around.
A fire element has become one of the most popular backyard additions that residents gravitate towards. The great part about a fire feature is that they are available in different forms and styles. Let's take a look at few of the most desired variations:
Fire Pits
Usually the most inexpensive type of fire feature, this versatile option is offered in a selection of designs, shapes and sizes according to your tastes. A home owner may choose whether to have the fire pit built in directly, or stick to one that can be moved with ease if necessary.  A fire pit can be built in or can have the ability to be moved. With a fire pit, you have the ability to purchase one that is wood burning or gas; this is entirely up to your individual preferences. Fire pits can be built from materials such as brick, concrete or steel, and are used most often as a social focal point, offering the perfect spot to gather around.
Fireplaces
A fireplace is an attractive central feature that can be added to your pool vicinity and can be designed as an atheistic addition to both the swimming pool as well as the design of your home. Incorporate a fireplace on the edge of your pool, or install one on your patio/deck area. A backyard fireplace is ideal for just a few people, as it undeniably provides romantic ambiance and encourages intimate conversation. One advantage of a fireplace is that because it is set on the edge of the area, you have the flexibility to add landscaping around it, without taking up excessive space.
Backyard Kitchens and Grills
It's never too cold to use your BBQ or grill! While it's easier to roast marshmallows around your fire pit, it doesn't mean you can't do some cooking on your backyard grill!  Host a backyard party, where your guests can enjoy the warmth of your fire pit, while enjoying the taste of some freshly grilled steaks. Barbeque island grills are an increasing trend for the pool area. Your grill can be standalone or incorporated into a larger outdoor kitchen set-up for convenient backyard celebrations!
Fire Walls
This unique fire feature offers elegance and beauty to your pool area, while illuminating the evening sky. Generally, fire walls are structured into the design of your swimming pool deck, but can also be implemented afterwards. Often these are combined with a water feature, creating the soothing sound of a waterfall, with the glow of a gorgeous flame.
Just because it's not pool weather, who said November means hiding indoors? Make the most out of your backyard this winter, with a fire feature that will keep you warm while providing a means of entertainment for the entire season.