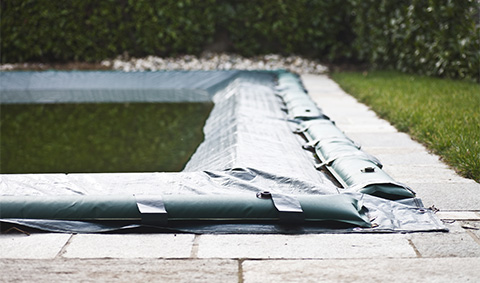 Facts You Need To Know When Hiring A Pool Service to Close a Swimming Pool
26 Sep
As the leaves start to turn to beautiful red and orange in Simcoe County, it may be time to think about winterizing your swimming pool. While closing a pool is never as exciting as opening one, a proper fall procedure will ensure that your pool opening is as quick and hassle-free as possible.
The main factor to consider when timing your pool closing is temperature. Closing your pool too early can be very bad for your pool, if it is still too hot the chemicals will not protect your pool through to the opening season. It important to wait until your water temperature is consistently below 18°C (65°F) before closing your pool.
If you close your pool when it is still too hot, the protective chemicals will be consumed faster than they usually would be in the cooler temperatures, your pool will be more prone to algae throughout the winter and spring, and may require draining or rebalancing with more chemicals that otherwise would be unnecessary.
Conversely, it's important to close your pool prior to the cold winters that we have here in Simcoe, leaving it too late could mean your pipes, heaters, filters, or pumps could crack from the expansion of icy water.
Winterizing an inground pool is quite different from regular ongoing maintenance throughout the summer, but that doesn't mean you can't close your pool by yourself. The advantages of hiring a professional pool company will remove all the hassle of partially draining your pool and storing equipment.

What does a pool closing company do to winterize an inground pool?
Partially drain your pool and lower your water to the best level
Remove and properly store any of your equipment
Install the cover on your pool for protection
Prepare your pumps and plumbing to prevent damage due to freezing
Lowering your pool's water levels a few inches below the skimmer will ensure water does not go into any of the pipes or equipment throughout the winter and cause unforeseen damages when you open your pool next season.
There are many small intricacies that make hiring a pool company to close your pool painless. If you're thinking of hiring a professional, there are still a few steps you need to complete the following prior to your appointment:
Vacuum your pool of any debris that would negatively impact your opening next spring
If you have a sump pump, ensure you start pumping down 48 hours prior to your pool closing appointment
Remove drop-in steps and sandbags that hold steps in place
Chemical balance your pool water about one week before your appointment
Clean any salt cell and cartridge filters to store indoors
Ensure all pool equipment, accessories and winter plugs are easily accessible
The pool specialists at Blue Diamond have over 15 years of experience building, restoring, opening, and closing pools in Ontario. Booking your appointment in advance will ensure your pool is scheduled in once the water is cool enough but before there is a risk of freezing.
Simply fill out our form to book your pool closing this fall.