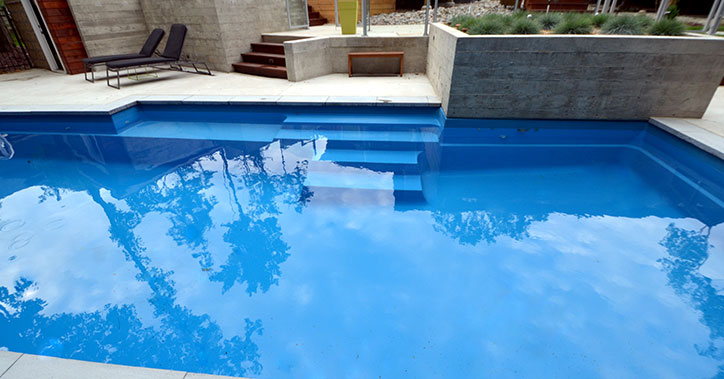 In Ground Pool vs Above Ground Pool
07 Jun
So you've decided it's time to dive in and invest in a pool for your backyard. Your family is probably thrilled about spending countless hours floating around on an air mattress or playing 'Marco Polo' with friends. You've probably dreamed away more time pretending to be in your pool than you've thought of what type of pool you actually want. 'Should I get an in-ground pool or an above ground pool?' is a question that's swimming through your mind. There are several factors you may want to explore before making your final decision.
The first question you may want to ask yourself is 'what is your budget?' An in-ground pool is typically double the price. If this is something you have saved for and can make the financial commitment, then an in-ground pool is a viable option. If you have a limited budget, you may want to go with an above ground pool because the installation cost is less and they are usually less expensive to operate and maintain.
The biggest installation cost isn't necessarily the pool itself. You may discover the biggest budget eater is the expensive landscaping that's required for an in-ground pool. You may need to install retaining walls, pour a lot of concrete in and around the pool area, install patio stones and bring in or remove a lot of soil to make the area just right.
Aesthetically, in ground pools are thought to more pleasing to the eye because the backyard is built entirely around the pool with large patio areas and well-manicured, planned out gardens. You also have almost endless options for shapes, sizes and depths. Above ground pools can look pretty amazing as well. They can be finished with interlocking patio stones, patterned concrete or with a traditional wooden pool deck. It simply depends on your backyard and your budget.
The next question to ask is who is going to be using it? Is this a pool where you want to 'literally' dive in every day and swim laps? An in-ground pool is probably your best bet if that's the case because above ground pools are normally quite shallow. Do you have small children or pets? In-ground pools have a reputation for being more dangerous because someone can easily fall in.
Another question worth asking is how patient are you? If you have decided this is the year you want to install a pool and start swimming then you may want an above ground pool. They can usually be installed and ready to go within a week. In-ground pools may take a lot longer to install. Depending where you live, it is recommended that you begin constructing an in-ground pool in the fall due to temperature changes. You may also have to worry about construction permits.
The last question is how long do you plan to live where you do? If you are planning to relocate to a new home within a few years, then you may want to consider an above ground pool. Above ground pools can be taken down and move with you. If you plan to stay where you are for quite some time, then why not spend a little more money and create the outdoor space you've always wanted.
Without a doubt, it is a pretty exciting time for you and your family. You are probably excited about taking your first dip. Whatever decision you make, you are going to love your new backyard oasis.