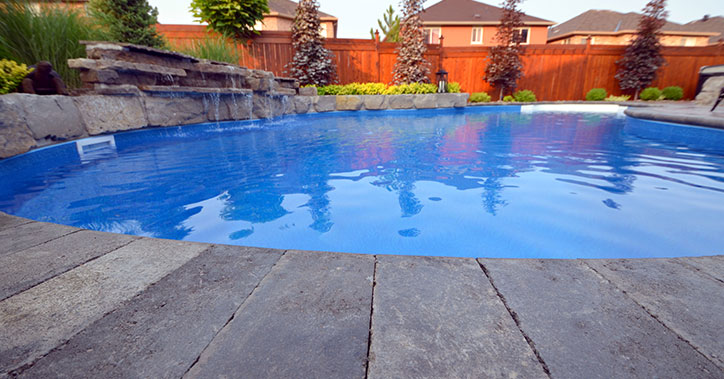 Landscaping Ideas – Make the Most of Your Space
10 Jun
This is the time of the year that we all long to be outside and enjoy the warm summer.  The temperature is often perfect and the long, sun-filled days make winter seem like a distant memory. Perhaps your backyard is in need of some upgrades and maybe this is the year you finally treat yourself to something you've always wanted – a beautiful backyard with a pool.
Entertaining friends and family in your backyard during the summer is as Canadian as hockey and maple syrup.   Maybe this is the year you will take the plunge and finally get the perfectly landscaped backyard and pool you've always dreamed about!
So what are some of the best landscaping ideas that will best compliment your backyard? Do you want a low maintenance garden or a private green oasis? Do you want an in ground or above ground pool? These are all questions worth asking when you are planning out your personal backyard retreat.
Top 5 Landscaping Ideas to Make the Most of Your Outdoor Space
1.    Build Your Backyard Around a Pool – The most beautiful backyards usually have a pool that best utilizes the space. The pool is often the main focal point and the eye is drawn to it by the other areas such as gardens and patio areas. It is wise to consult a pool and landscaping company that will help from the ground up. A pool serving company can create the perfect backyard for almost any budget because there are endless pool styles and designs.
2.    Fencing Around Your Pool – If you have small children or pets, you need to put fencing around your pool – in fact it is law in Ontario. Don't worry – the fence can actually be a beautiful addition that separates the yard, patio and garden from the pool itself. It also adds peace of mind and security.
3.    Plant Multiple Garden Areas – Having different gardens spread throughout your backyard will help the space look even larger than it is as well as give it a luxurious feel. Some people would rather have low maintenance plants surrounding their pool such as Black Eyed Susans, Peonies or Forget-Me-Nots. A landscaping expert can help you decide on the perfect plants for your backyard.
4.    Build an Outdoor Kitchen – Depending on your budget, an outdoor kitchen may make your backyard the talk of the entire neighborhood. Imagine having a built-in grill that fits perfectly with your outdoor space. You may not even go inside at all this summer.
5.     Create That Perfect Deck – Creating a deck in your backyard may be the perfect finishing touch to complete your outdoor space. You may want to consider concrete or another non-slip surface around the pool itself. Depending on your budget and layout of your land, you may consider having multiple levels or even adding a shaded gazebo. Call your pool installation and landscaping company for consultation.
Your backyard oasis can easily be made on almost any budget. It may cost less than you think and the return on your investment is worth every penny. The hours of enjoyment lounging around your pool will make you wonder why you didn't build it sooner!