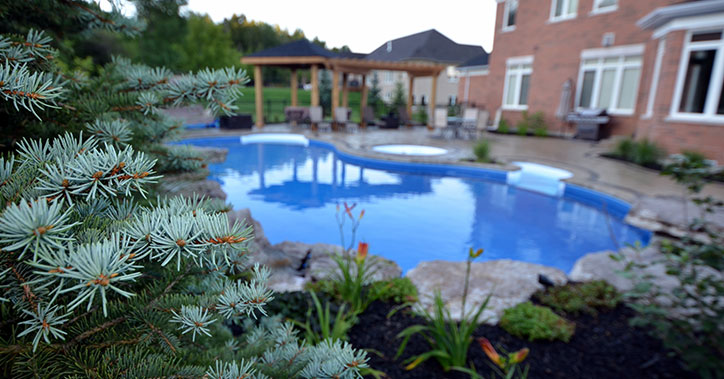 Take a Peek at the Top 5 Outdoor Furniture Trends for 2014
31 Dec
Have you thought about your New Year's Resolution yet? Maybe you'd like to take a trip somewhere exotic, or join your local gym to lose weight. Perhaps, you've been considering transforming your backyard into a beautiful outdoor oasis where you can enjoy a retreat-like experience right at your home!
2014 is an exciting year for gorgeous outdoor décor and furniture sure to transform your outdoor living space into the perfect place for both entertaining and relaxing. While the weather isn't exactly ideal for dreaming about your outdoor vacation spot at the moment, it's never too early to begin planning! Below are the top 5 outdoor furniture trends emerging for the New Year.
50 Shades of Colour
As a whole, people are interested in incorporating more colour into their home décor; specifically their backyard living space. Vibrant hues promote a feel-good vibe and a cheerful atmosphere, so it's all about using eye-catching colours and classic fabrics that are stain resistant, regardless of your taste in décor. If you want to go bold, consider pairing a vibrant patterned hue, with a neutral shade such as white, grey or brown. The contrast will look phenomenal, and the natural tones are timeless even with changing trends.
Relaxed Seating and Dining
Relaxed and casual seating is gaining in popularity when it comes to choosing outdoor furniture. Not only is this style of seating extremely comfortable, its relaxed vibe is more inviting and creates a sense of intimacy. With the convenience of outdoor kitchens and the increased availability of stools, mini fridges, and grills, people are looking for a versatile environment that represents a laid back feel.  This year, bigger is better when it comes to your dining set! While appropriate seating has always been a necessity for entertaining, large tables and ensuring there is plenty of seating for your guests is something to keep in mind for entertaining in 2014.  
Moth to a Flame
While traditional type coffee tables used to be the "it" choice for socializing around, these plain tables are being replaced with sizzling fire pit tables, as the hot new element for 2014.  They are perfect for establishing a focal point and they effortlessly create that ideal spot for gathering family or friends around to chat and enjoy one another's company.  Plus, fire features are not limited to fire pits tables. They come in many styles in both modern and traditional design to reflect your individual tastes and add drama to your backyards evening use.
Consistent Style versus Mix and Match
Though many prefer to purchase matching outdoor furniture sets to match their existing décor; the appeal of a more adventurous, mix and match style is catching on. Whether you choose to work with a designer for professional advice or prefer choose on your own, blending a variety of textures, materials, and colors can create a very unique look and feel. 2014 is about being edgy and embracing change! A simple example to achieve this look is by pairing wooden tables with iron chairs. You'll be surprised with what a little experimenting can do!
Outdoor living areas are growing in popularity and becoming a key component of one's property. What used to be considered a backyard space is now considered an extension of the home. Backyards are becoming redesigned into personal vacation spots, therefore people are seeking quality and durable furniture that will last for many seasons ahead. Components need to stand up to weather conditions but also provide the amenities for entertaining. Investing in the necessary décor to establish this is becoming one worth the value for 2014.
Please feel free to contact Blue Diamond Pools serving Barrie and area, for a free consultation to discuss your backyard vision. We'll be happy to provide recommendations based on your ideas and unique requirements. Call 705-726-3403.