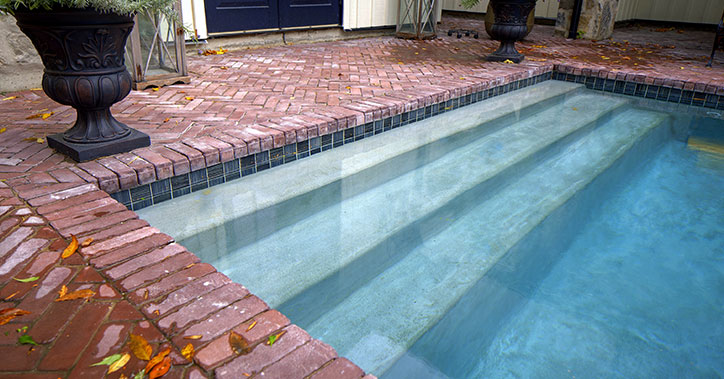 The Ultimate Relaxation Pool – Riviera 26'
01 Apr
For many homeowners, the backyard is the biggest and best place for hosting social gatherings, and of course relaxing. As a result, many Barrie residents will choose to install a swimming pool to provide that extra bit of entertainment.
Blue Diamond Pools is excited to announce the recent addition of the Riviera 26' to our line of fiberglass, swimming pools. The Riviera swimming pool is an extremely popular choice among homeowners because of the level of functionality and versatility it offers. The Riviera 26' offers an equally attractive design with the same features as the original model, with the exception of being smaller for backyards with limited space.
Key Features of this Fiberglass Swimming Pool:
•    Unique style that blends effortlessly into any style home and backyard
•    Ideal size for small backyards (measures 26' 5" in length and 12' 5" wide, with the shallow end depth standing at 4' and a deep end depth of 5' 4".)
•    Its curves offer a very charming look, yet are subtle enough that they do not take away from valuable swimming space
•    Wrap around bench surrounding the shallow end ( provides seating for adults and play area for children)
•    Steps located in deep-end for additional convenience
•    Wide steps provide easy access to the bench area as well as the pool floor
•    Internal bench provides a safe rest area for little ones learning to swim
•    Compatible with Salt Systems
•    Durable design and extremely easy to maintain
Spring is quickly approaching; is it time to consider installing that perfect swimming pool you've been dreaming of? Now even homeowners with limited backyard space can have the pleasure of owning a beautiful swimming pool.
Consider the Riviera Fiberglass swimming pool for the ultimate relaxation pool.  If you're seeking endless enjoyment this summer, that will also add a gorgeous addition to your Barrie home, this may be the solution for you!  Contact Blue Diamond Pools for more information on our selection of fiberglass swimming pools and for a free estimate. Call 705-726-3403.