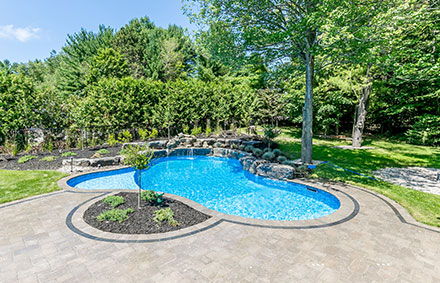 Vinyl Pool and Landscaping in Midhurst
21 Jul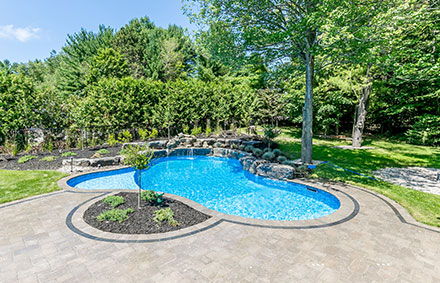 The team at Blue Diamond Pools and Landscaping  has created another backyard Oasis! This project merges nature, custom landscaping, and a new pool together in perfect harmony.
Our crew set up shop at a beautiful home in the Midhurst Ontario, that backs onto a picturesque forest. To fit with the beautiful landscape surrounding the home, the project was kept very nature oriented.
This pool and landscaping project features a natural rock waterfall, armour stone retaining walls, an in-pool tanning ledge and a fire pit. These special additions make the backyard feel just like an outdoor get-away.
The pool installation went off without a hitch. The new in-ground Vinyl Pool with Prism Blue Pool Liner and Crystal Logic Pool Lights bring elegance and character to the yard. The homeowners are thrilled about their fully automated pool equipment, which will make maintenance faster and easier.
Every detail of this oasis was added with thought and purpose, from the construction and installation of the cedar deck, to the Unilock Fullnose swimming pool coping and patio.
As the pictures suggest, the project went swimmingly. With a beautiful new pool and perfectly landscaped yard, these homeowners can get back to nature, or at least their backyard.