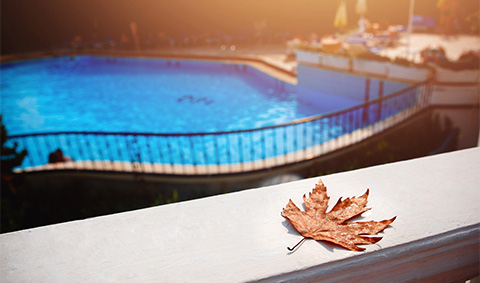 Fall Season Inground Pool Liner Replacement
20 Sep
Pool closing season is upon us, and although it may surprise you, this is one of the best times of year for a pool liner replacement.
Your pool liner may be faded, sagging or torn from a summer of fun, but it's important to know when to replace your pool liner so that no potential leaks occur throughout the winter, resulting in a devastating pool opening season when you and your family are ready to enjoy your pool next summer.
Why is Fall a good time to replace a swimming pool liner?
Changing your liner in the Fall presents multiple benefits, most importantly it ensures your pool is ready as soon as possible for next season, eliminating the risk of major repairs required at the beginning of next summer.
Fall Temperatures Make Liner Replacement Easier
Fall often has some of the best temperatures during the days to easily replace your pool liner without fear of extreme colds once winter has begun or extreme heats in the middle of the summer season.

Fall Liner Replacements Reduce the Risk of Groundwater Problems
Runoff from the long winter can increase the groundwater during the spring months, while in fall the ground is often drier, and less likely to cause any complications with your liner replacement. This is why it is so important to have a professional team address your specific property needs and ensure that no costly or detrimental complication occurs from repairing your pool.
Complete two tasks at once
If you're hiring a professional pool company to replace or fix your pool liner in the fall, this is also a great time to have your swimming pool closed for the season. Blue Diamond Pool specialists will winterize your pool equipment, underground lines, and plugs and make sure your pool cover is ready to last through the winter season.
Avoid next years summer rush and call the pool experts at Blue Diamond today to discuss your pool liner needs. Or, if you're interested in closing your pool this season, request your appointment today.