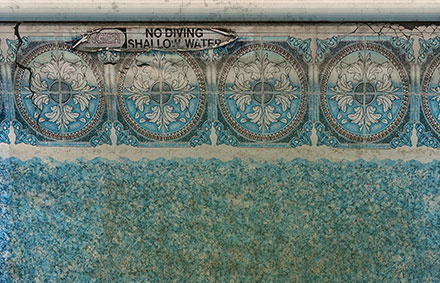 How to Know When You Need A Pool Liner Repair
11 Jun
Vinyl pool liner repair is a common requirement at the beginning of the swimming pool season. Environmental factors such as extreme cold and ice build-up throughout the winter months can lead to a sagging liner or cracks and tears being revealed upon opening your pool. Although the problems may seem small at first, making a small repair now will ensure your family is able to enjoy your pool for years to come, and avoid a complete pool liner replacement until necessary.
How long do pool liners last?
Generally, vinyl pool liners will require replacement every twelve to sixteen years, although this time can be more or less depending on the maintenance and general wear-and-tear your pool undergoes.
What factors can reduce the life expectancy of a pool liner?
In need of an expert? Blue Diamond Pools Experts have over 14 years of experience. Request a consultation >
How to know when a pool liner needs to be repaired?
Sometimes it will be quite obvious that your pool liner is in need of repair, yet other times without a keen eye, the problem can continue to grow, potentially causing much larger problems down the road. To ensure this doesn't happen, here are the top four things to look for:
Inground Pool Liner Leaks
Always make sure your inground pool is not losing more water than simply splashing and evaporation. An inground pool leak can cause serious damage, ranging from requiring a complete pool liner replacement to creating a sinkhole where the water is escaping into the soil – on top of the gallons of water potentially lost. 

Not sure if your pool is leaking? Don't delay a consultation, Blue Diamond leak detection services will come to your home with leak detection equipment to make the proper diagnosis.
Faded Pool Liner 
Sun bleaching and chemical imbalance can fade your pool liner, and although this may reduce the overall look of your inground pool, it is actually deteriorating the material, making it more susceptible to tears and leaking. Ongoing cleaning and proper balancing will help to keep your liner like-new. If your liner is severely faded, it would be a good idea to reach out to a pool expert before it is too late and a leak occurs.
Tears in the Pool Liner 
Dropping a sharp object in your pool is a very common accident that unfortunately can cause tears in your liner. Luckily depending on the severity, these issues can be resolved very quickly, but if left unattended, larger problems such as leaking will occur.
Stretched or Sagging Pool Liner
If your pool liner was installed many years ago, it can sometimes lose elasticity, causing visible wrinkles. This happens when the liner comes off of the track holding it in place. If you cannot secure the liner back, it, unfortunately, is permanent damage that cannot be repaired, requiring a liner replacement. When a new liner is installed, a trusted pool contractor ensures the pool liner is sized and fitted properly, ensuring no air pockets form afterward, which could cause tearing and sagging to occur.
If you notice any of the above problems with your inground pool, it's best to contact a pool contractor as soon as possible to get the issue quickly resolved.
Keeping your pool liner well-maintained will ensure your backyard continues to be your family's oasis. At Blue Diamond Pools, landscapes are The Diamond Standard – here is one of our favourites :
Need help with a pool repair? Work with the trusted pool and liner repair company with over 14 years of experience. Contact us now >